Our 3 day First Aid at Work training course is designed to enable companies and organisations to remain compliant with the Health & Safety etc. at Work Act 1974 and the Health & Safety (First Aid) Regulations, particularly in situations where their first aid risk assessment has identified a higher degree of hazard potential and the need to provide additional first aid training.  Examples include construction sites, chemical plants, high numbers of both vehicular and pedestrian movement in close proximity, manufacturing and shared premises/multi-occupied sites.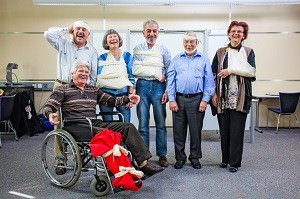 The 3 day First Aid at Work training course will provide candidates with a comprehensive set of practical skills and the necessary knowledge base to allow them to tackle a wide range of emergency situations safely and confidently.  The course will ensure candidates understand their role as a "First Aider", cover the requirements of the Health & Safety (First Aid) Regulations and give them the necessary skills sets to manage an emergency whilst communicating with both the casualty and emergency services.  In addition our 3 day training course covers the following areas:
| | | |
| --- | --- | --- |
| Resuscitation (adult CPR) | Unconscious casualty | Spinal injuries |
| Recovery position | Shock | Choking (adult) |
| Stroke | Epilepsy | Poisoning |
| Asthma | Bleeds (minor and severe) | Bone, joint & muscle injury |
| Heart attack | Chest pains | Head injuries |
| Diabetic emergencies | Eye injuries | Fainting |
| Burns & scalds | Severe allergic reactions | Anaphylactic shock |
| Heat & cold | Monitoring & recording casualty information |   |
The course duration is 3 days.  Each day is approximately 7 hours (depending on group size) starting at 08:30 am and finishing at 4:30 pm
Candidates will receive continuous practical assessment throughout the training day.  They will be required to take a practical test and sit and pass a multi-choice question paper to gain the qualification.  A basic level of both spoken and written English will be required.
On successful completion of the course the candidate will receive an industry recognised First Aid at Work Certificate which is valid for three years.
Refreshments and lunch are provided each day on this training course and are included in the course fee.